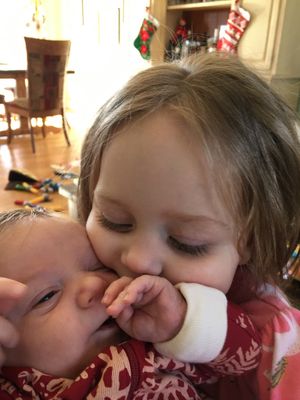 Written by: April Vargo
I just started my first week back to work after having Danny.  Looking back I can't believe how fast these past twelve weeks have flown by and how much has happened.  It literally feels like just yesterday I was still pregnant and planning for his arrival.  I can't believe we're looking at a three month old! 
I learned a lot this second time around.  I learned that being a second time mom was so much easier in some respects and more challenging in others. 
I knew I was having a CSection this time around and knew what to expect from the procedure itself and the recovery period.  I told myself I would take a full 12 week maternity leave versus trying to rush back into a normal schedule.  My husband took a full month off to help out and be with our new little family - which was so amazing. 
The thing is, Jason and I never take time off, like seriously never!  So the idea that either of us was planning on taking a long leave was new territory to us both.  It was so worth it and absolutely needed. 
I had already planned that my leave would incorporate the following: 
- Focus on recovery 
- Bond with my beautiful new baby 
- Bond with my beautiful, amazing toddler 
- Bond as a new family of four and just enjoy our time together 
- Let everything else fall where it may 
I didn't want to think about work, or schedules, or getting back in shape, or milestones, etc.  I wanted to focus on the present knowing that this period would fly by, and these were moments I was never getting back. 
When I told my students and their families, I was greeted with overwhelming support.  One even telling me, "thank goodness you're finally taking some time off."  Another saying, "I'm so glad you're having this special time with your family, these are really special moments, especially during the holidays, it just feels even more magical." 
I've said this before and I'll definitely say it again, I have the most amazing students and families, and honestly, I don't even know how I got this lucky. 
As time went on and I started to prepare for regular life and getting back out there again, I felt a slight sense of nervousness, like I didn't know how to be back out in society again.  I realized now I have two little ones that I'll be toting around by myself.  What happens if my toddler runs off and the baby starts crying or needs something?  How do I tend to both, how to I squelch tantrums and feed a hungry baby?  How many bottles do I need to pack, how long do I plan to be out?  Ew diaper changes in public again, gross! 
I started signing up for Mommy and Me Yoga Classes, a MOMS Group, Toddler Dance Classes, and taking the kids on little adventures.  Each time I reached out to sign up, another class encouraged me to bring both kids, that my baby and toddler were welcome.  I received so many positive words of encouragement, support, and camaraderie.  I loved every minute of it, and loved watching Maizy blossom, make friends, and socialize, and loved that I found a group of friends where I could do the same. 
The fear of parenting two kids quickly subsided and I found myself getting even more excited about the endless possibilities of opportunities that lie ahead of us. 
I started thinking about myself, I probably should start getting back in shape if I planned on keeping up with everyone.  At this point, I didn't really feel motivated / really understand how to go about it.  I reached out to a friend of mine, who has two kids of her own, who gave me some very awesome advice on how to do it all…. 
She said that there is no extrinsic motivation, no special secret, you just have to do it.  Figure out what's important to you and make it happen.  For her, her motivation is her boys.  They're very active and energetic and living a healthy lifestyle is super important so she can keep up with them. 
Then she said something that really stuck with me "you have to choose your hard." Working out is hard, and being sick is hard, which one do you want. 
Wow!  That's pretty poignant.  Understanding that if you want to be in shape, you have to work at it, you're not magically just going to fall into the size and the energy level you want to be at, you have to work for it.  On the other hand choosing unhealthy options that leave you feeling sick or in the doctor all of the time isn't easy.  How do you want to feel? 
The thought hit me, that I am completely in charge of my life, my schedule, and where I chose to spend my time so that I live the kind of life I envision for myself.  I started really thinking about what is important to me, and where I see myself and my family. 
I realized I needed to make sure I planned my personal and work schedules so that they compliment each other and fit for this particular time in my life.  Being present for my kids is so important to me, and I really only get five years of one on one time before they head off to school and start to fill their days with school, after school activities, etc.  Their little lives start to get so busy.  Now is my opportunity to help them grow, spend quality time with them, bond, and make special memories. 
My husband and I sat down to work on our schedules.  He works in sales so he has set days where he works mornings and afternoons and set days where he works afternoons and evenings.  The goal was to plan my teaching schedule around his work schedule so one of us is always with the kids. 
I have less availability at this stage in the game, however, I'm still teaching and still getting to do what I love while getting to engage with my own children.  It's really a dream come true. 
This week as I was preparing for my first lessons, I found myself getting nervous.  Like first day back to school jitters.  I hadn't taught in three months, what if I'm not good at it anymore, what if I lost some of my skills, what if something happens to the kids and they need me? 
As my first lesson went underway I was instantly filled with excitement and enthusiasm.  I fell right back into what I do, picked up right where I left off and got to teach the students I absolutely love!  It felt so natural and like I was exactly where I was meant to be.  I felt confident that my husband had our kids well taken care of, and I could focus 100% on the students in front of me, providing the best possible experiences I could. 
I realized new beginnings can be a little scary at times, and even though you may have some experience you find yourself questioning whether or not you can succeed, and how to navigate this new adventure.  Life is constantly evolving and changing and it's important to change with it.  You need to be flexible while always keeping your eye on your goals, working towards the life you envision for yourself. 
I love that I get the opportunity to run my own business and raise my children while creating two completely different communities - a work and family community.  I feel whole, like I am in some of the best times of my life.  I know there will constantly be juggling and tweaking, but I feel like this is where I'm meant to be and what I'm meant to be doing. 
I hope any other moms and dads who are also trying to find their way, their groove, their place….take the time to slow down, to envision what they really want, and build the life they dream for themselves and their families.